Saturday, December 09, 2006
HELLO
peeeople! ;p
i'm here to update this very dead blog about our sentosa outing XD
13 people turned up [davin, qihan, jerrold, douglas, jeremy (left early), yingjie, dominic (came later), weiling, jiacong, wensi, rachel oon, yanlin and me!]and yes it was quite fun. so i'm here to do my paparazzi job by posting the pics!
pictures say a
thousand
words right? so scroll down!
.
.
.
it was a
feng1 he2 ri4 li4
day (hahahaha pri school chinese xDDD), and so we headed to sentosa at about 3pm (after making everyone wait for me! haha sorry PAISEHHH ._. )
there were the girls... ( excluding yingjie sitting on the jetty and the group of ahbengs next to us)
and of course, the guys...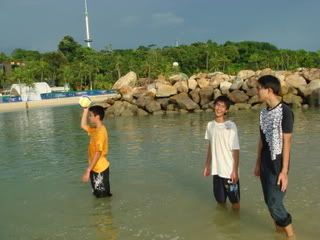 and Davin the skinny dipper! hahaha jkjk, he was just enjoying the nice cool water xD (right?)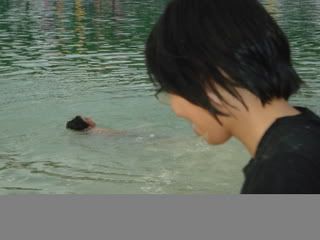 after playing rather unsuccessful umpteenth rounds of beach volleyball in approx 2 hours , inclusive of flying sand and water (haha. we knocked so many people and that cute dog!) , some very happy people... (like qihan and jerrold. LOL)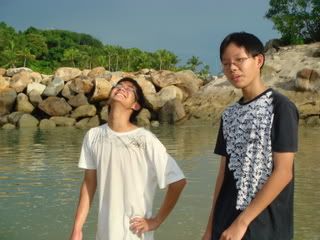 decided to bury SOMEone, in the sand! so we decided to scour the place for that very privileged someone...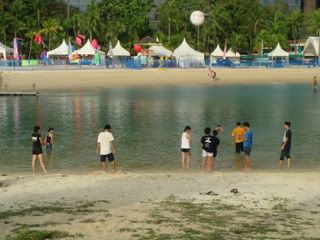 and we spotted our dear target frolicking in the water metres away...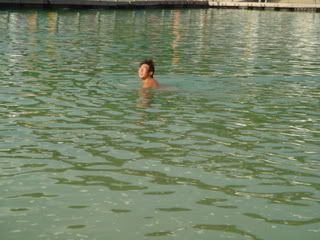 ahh there you are! yes davin! HAHAHA :p (davin: aahh? )
so we started digging, for a nice comfortable position for mister davin to lie in... first, there were 2... (digdigdig, pantpantpant)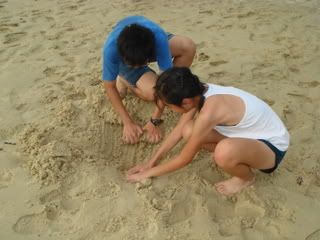 then, there were 3! and more joined in haha duh. (guess who's toes!)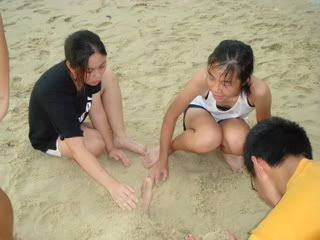 [WORK-IN-PROGRESS]
and finally, after minutes of digging, pespiration and complains of cracks appearing (LOL),
lo and behold
! we present to you...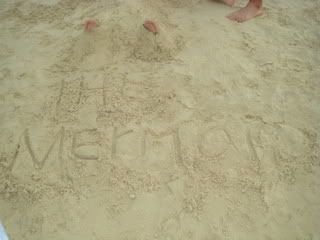 THE MERMAID! yes! you didnt read wrongly (:
aka, DAVIN WANG!
still can stick his tongue out! ;p (look closely)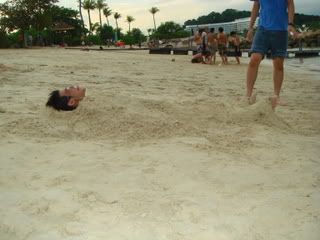 ahh he looked so lonely and pathetic lying there by himself ):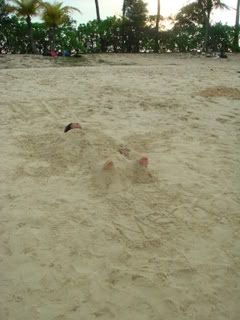 so kind yingjie decided to offer him a kiss! :D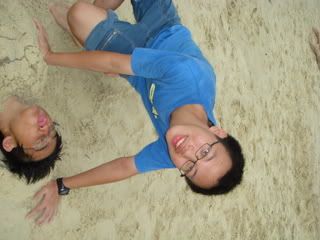 now, dont we have to acknowledge the people behind this masterpeice? HAHAHA yes. presenting to you... the PEOPLE, (and the big gulp wensi took from the group of eccentric ah bengs next to us hahaha)
plus WEILING, who kindly took that photo for us! (:
it was quite a happy day, they (look down) can testify to that. (we were playing with wet sand after our burying-davin operation)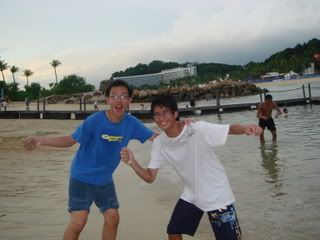 oh yes. ahhh what is jiacong trying to do with the volleyball?!??!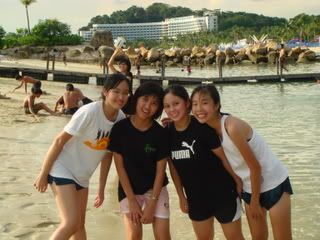 and so we left, leaving behind the beautiful sunset,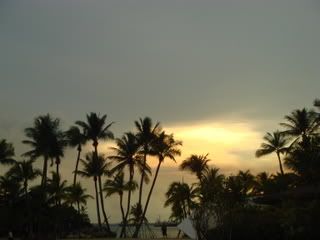 and.... (HAHAHA)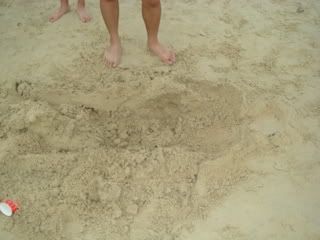 oh and poor weiling got hurt whilst running away from davin):
hope your wounds heal quickly(:
okay thats all! for those who didnt go, there's always a next time :D
love, nicole

10:15 PM



Tuesday, September 26, 2006

hey guys! First post here too! haha XD

Good luck to all of you for EOYs! It's only a week or so of mugging left... let's just drink more root beer (you know, the brand Mug) and work hard!

Looking forward to our outing after the exams! (:

P.S. Someone get more people to post here. It's kinda dead.. ><

-Kanzy

11:06 PM



Thursday, August 17, 2006

heylo peeps, long time no post, just dropping by to wish everyone luck for their end of yrs (:

keep smiling ahaha XD

-davin (:

6:06 PM



Sunday, August 06, 2006

hello guys! it's my first post :p seems quite late le... haha.

i happen to see two videos that are damn inspiring. whether or not, you are facing some challenges, some failures. i hope these will help. and when you feel like giving up, think of these.

http://www.youtube.com/watch?v=nHo3NPs3ET0

http://www.youtube.com/watch?v=ZUb9s8WJ_8g

just want to say, glad to have you all as friends. though i miss you all, but i felt there's no point saying all these so much, cause it's going to make everyone miss each other more.

so all i can do is to hope from deep inside my heart that everyone of you can do well in everything you all do. jiayou! and endeavour! (and rmb: never give up, just take a rest)

cheers!


-jiayun

3:40 PM



Sunday, July 23, 2006

Hellooo people!

umm, two announcements here!

1. COMBINED BIRTHDAY for JULY and AUGUST BABIES!

yupp, the title says it all. basically, we are going to meet first in hwa chong on 8th july, aka most schools' national day celebration day cause our school's going to have some weird carnival. that's the rough details for now. might be going to seoul garden or something, not sure yet.

so this is the meeting rough details:

Venue: Hwa Chong Institution, Concourse/Oei Tiong Ham Hall area
Time: after your school celebrations end or at about 12pm
Date: 8th August?

yupp (:

2. Drawing our big picture

As you all might have know, i'm a bunny. yes, a bunny. i need you guys to tell me something you would like to be. it could be anything. a symbol that you think could be your personal trademark. for example, mine is bunny. you can choose from animals, to umm, scientific apparatus and EVERYTHING under the sun (:

---
yupp, that's it for now.

LOVE,
~emma (pronounced air-mah not E-mah!)

10:22 PM



Wednesday, July 05, 2006


hey!

we're here to contribute some ideas for the next facs outing.
1) seoul garden: expensive but it's a buffet, you see.
2) swensens!
3) esplanade XD

and we predict that most people will not be free this July because of school work, openhouse, competitions, world cup): and stuff.
So, we recommend for the outing to be held on the National Day week (week 7).
FYI, rgs facs will be free coz we'll be having holiday from tuesday to sunday. so yep.

hope that the facs outing will 'come true'.



love,
shuhan & shihua.

9:53 PM



Tuesday, July 04, 2006

Hey guys, just a teenie reminder: one month has passed since slc (:

yepp, and i'd like to share with u guys abt smth interesting that happened to me this morn.

well, this morn i was awoken as usual by my alarm clock at around 5.20am. What struck me the most was that the song "At the Beginning" was playing. And then i realised that one month has passed since slc (thanks to jingbo's nick too). and as i lay on my bed listening to the song, wonderful memories of slc came flooding back to me again. yeaaa, i know, isnt it rather ironic? but ohwells.

oh ya, i really hope that we have have a get together lunch/dinner some time like the end of the month. and we can sorta talk or have fun (:

-davin ((:

8:27 PM



Sunday, June 25, 2006


Hey people,
its just a few more minutes to reality, to where all our dreams would
slowly fade away as we come to realise that practicality sets in and
relationships might be placed at the corner...
this will probably be my last few minutes of emotional let off for
now...
i would just like to share one song, its by Bon Jovi, entitled "Never
Say Goodbye". find some of the lyrics meaningful
VERSE 1
As I sit in this smokey room
The night about to end
I pass my time with strangers
But this bottle´s my only friend
Remember when we used to park
On Hudson Street out in the dark
Remember when we lost the keys
And you lost more than that in my backseat
Remember when we used to talk
About busting out - we´d break their hearts
Together - forever
Chorus:
Never say goodbye, never say goodbye
You and me and my old friends
Hoping it would never end
Never say goodbye, never say goodbye
Holdin' on - we got to try
Holdin' on to never say goodbye
VERSE 2
Remember days of skipping school
Racing cars and being cool
With a six pack and the radio
We didn't need no place to go
Remember at the prom that night
You and me we had a fight
But the band they played our favorite song
And I held you in my arms so strong
We danced so close
We danced so slow
And I swore I'd never let you go
Together - forever
(Chorus)
I guess you'd say we used to talk
About busting out
We'd break their hearts
Together - forever
(Chorus)
our love shall never end, and please, never say goodbye. shall still
day dream frequently to relive those days. just hope i won't shed
tears once i see those memorable place once more ><
love,
~emma

11:36 PM





REALITY CHECK PEEPLEE, TOMORROW SCH RE-OPEN -sniff-

heh, HOPE WE CAN MEET UP EVERY MONTH AND HAVE A MEAL TOGETHER OR AN OUTING OR A GATHERING OR SMTH!! XDDDDDD

-davin (:

6:41 PM



Saturday, June 24, 2006


hey all!
here's me again, popping by just one day before school reopens. isn't it sad? it's been so long since slc ended and now we're all back to school again. oh which reminds me, the pile of homework collecting dirt and who knows what on my table isn't cleared or anything either. x/ we should all jiayou and keep being muggers! besides, that's the perfect way to get good grades. yep, just here to say hi again i guess.
can more people post?
i want to come back here in 2 months to know that this place is still active and lively!
<3

8:52 PM



Thursday, June 22, 2006


heyy people!
new song up on yahoo groups! Photos of That Batch
hope you like it (:
love,
~emma

5:04 PM